Our Chapter
Our Staff
Tim Earley
Chief Executive Officer
My Wish
I wish to be a Coast Guard Rescue Swimmer.

Veronica Sheehan
Chief Operating Officer
My Wish
I wish for something impossible but nevertheless it's my wish – for my Mom to come back for a day from Heaven to meet my son!

Lindsi Pearson
Chief Development Officer
My Wish
I wish to sing on stage in a broadway musical.
Our Board
Bruce Ford
Board Chair
President, Southeast, Transwestern

Jeff Flowers
Board Treasurer
SVP, Operations & Loss Prevention, Paradies Lagardere
Joel T. May
Board Secretary
Partner/Corporate Lawyer, Jones Day
Our Chairman's Advisory Board

Tammy Farley
Advisory Board Member
Founder, Rainmaker
Tim Crow
Immediate Past Board Chair
Executive Vice President & Chief Human Resources Officer, The Home Depot (Retired)

Hank McLarty
Board Member
Founder and CEO, Gratus Capital
Our Chapter Medical Advisors

Kirshma Khemani
Assistant Professor of Pediatric Hematology/Oncology/BMT
Children's Healthcare of Atlanta

Rhona Tiongson-Federer, MD
Pediatric Physicians, PC
Private Practice
Amir Mian, MD, MS, MBA
Professor, Department of Pediatrics | Division Chief, Pediatric Hematology - Oncology | Director, Pediatric Bone Marrow Transplant Program
Georgia Cancer Center – Children's Hospital of Georgia

Jonathan Popler
Pediatric Pulmonologist| Children's Healthcare of Atlanta
Media Center
Access news releases, background information and recent news about Make-A-Wish and connect with our Communications team. 
Managing Our Funds 
Make-A-Wish Georgia finances its endeavors through corporate sponsorships, special events, foundation grants and individual contributions. Make-A-Wish Georgia does not solicit funds by telephone and receives no federal or state funding. As a 501(c)(3) tax-exempt organization, all contributions are deductible to the extent permitted by law. The chapter's financial statements are audited locally by CliftonLarsonAllen LLP.
Considering recent events, the pandemic impacted our funding and challenged the way we deliver our mission, but we continue to take our responsibility for the contributions donated to our cause very seriously. We are pleased to confirm this according to the fiscal year 2020 audit results. For full financial details, please review our most recent audited financial statement, annual impact report , or our latest 990.
We are proud to be a BBB Georgia Accredited Charity Seal Holder, having met all 20 BBB Standards for Charity Accountability. We have also been awarded the 2021 Gold Seal of Transparency from Guidestar by Candid.
View Annual Report: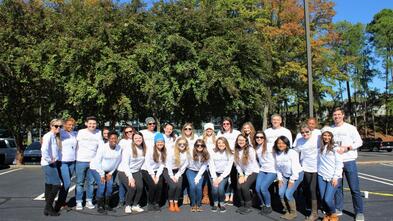 At Make-A-Wish® Georgia, we are more than a great place to work – our work is life-changing. We are an inclusive and diverse group of people who, through a mosaic of backgrounds, thought and experiences, are united in purposeful work. We are fueled and guided by our values – values that are represented in the inspired people we work with and the transformational work we do, every day. As the world's largest wish-granting organization, we embrace, respect, and honor our differences and stand together in our commitment to transform lives, one wish at a time. 
Employment Opportunities
Learn more about our internships.
Contact Us
Make-A-Wish® Georgia
1775 The Exchange SE

Suite 200

Atlanta,
GA
30339
(770) 916-9474