Our Chapter 
Our Chapter
For over 35 years, Make-A-Wish Eastern North Carolina has served all medically eligible children who reside in the 49 county chapter area east of the Orange/Alamance county line — serving the Triangle to the coast.
Our goal is to reach every eligible child in our chapter area and grant their wish.
Since our inception in 1986, the organization has granted more than 4,232 wishes*, at zero cost to the families we serve. We operate solely through generous donations of individuals, corporations, organizations, and foundations and with the help of more than 250 volunteers, including our Board of Directors.
*as of the end of Fiscal Year 2022.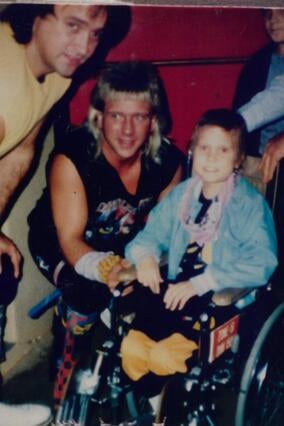 Our First Wish
Benny Strickland was an 8-year-old boy from Roanoke Rapids, N.C. suffering from acute lymphoblastic leukemia when he became the very first wish recipient for Make-A-Wish Eastern NC in 1986.
Benny wished to meet his favorite wrestlers — Magnum T.A. and tag team the Rock 'N Roll Express. So, before a show, Magnum T.A. visited Benny in Duke University Medical Center, and the following weekend Benny and his family traveled to Atlanta for a taping of a wrestling show at WTBS where he met the Rock 'N Roll Express! Benny's wish came roughly six months after the chapter was founded, laying the groundwork for now more than 4,000 wishes for children in eastern North Carolina
Our Board of Directors
Melissa Dalton Weston
Board Chair
VP, Marketing, US Radiology Specialists
Lebone Moses
Board Vice Chair
President & CEO, Chisara Ventures, Inc.
Michael Zuber
Board Finance Chair
Vice President & Wealth Advisor, Investors Trust Company
Jeff Donahoe
Board Development Chair
Southeast US Sales Lead, Kinetica
Careers & Internships 
At Make-A-Wish, we are more than a great place to work — our work is life-changing. We are an inclusive and diverse group of people who, through a mosaic of backgrounds, thought and experiences, are united in purposeful work. We are fueled and guided by our values — values that are represented in the inspired people we work with and the life-changing work we do, every day. 
We are always on the lookout for great talent who share in our passion. If you are interested in a career or internship with Make-A-Wish, check out our current open positions.
Internship Opportunities 
Internships provide college students with hands-on learning opportunities. Students interested in a career in the non-profit sector will find a wealth of experience by working with 
Make-A-Wish® Eastern North Carolina. Please note that all internships are unpaid. 
Opportunities will be posted when available. To apply for an internship position, please complete the Volunteer Application. Candidates will have to complete a Conflict of Interest form, Background Check, and interview prior to beginning the internship. Return your application, cover letter, and resume to our office: 
Email: [email protected] 
Mail: 3809 Computer Drive, Suite 201; Raleigh, NC 27609
Managing Our Funds 
Make-A-Wish Eastern North Carolina finances endeavors through corporate sponsorships, special events, foundation grants and individual contributions. However, we do not solicit funds by telephone and receive no federal or state funding. As a 501(c)(3) tax-exempt organization, all contributions are deductible to the extent permitted by law. Our financial statements are audited locally by CliftonLarsonAllen LLP. 
At Make-A-Wish, we take our responsibility for the monies donated to our cause very seriously and are pleased to confirm that according to the fiscal year 2019 audit results, Make-A-Wish Foundation of Eastern North Carolina spent 67.7% of every dollar on wish granting and related program expenses. Only 5.5% of every dollar was spent on management and general costs and 26.8% was allocated to fundraising. For full financial details please review our most recent 
2019 MAW ENC Audited Financial Statements
Media Center
Access news releases, background information and recent news about Make-A-Wish and connect with our Communications team. 
Jackie Jordan Welker
Senior Director, Marketing & Communications
[email protected]
919-635-8691 
View our Annual Report 
Contact Us
Make-A-Wish® Eastern North Carolina
3809 Computer Drive

Suite 201

Raleigh,
NC
27609
(919) 821-7111